Rubber Matting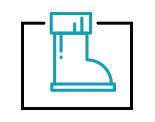 MacLellan's Rubber
Matting
product range has been designed for use in commercial and public areas to aid safety and reduce the risk of injury through slips, trips and fails.
In some applications the Rubber Matting is designed to withstand aggressive media such as oils or chemicals, in others to provide a robust wear resistance to high levels of foot traffic, and in others to provide more of an aesthetic service.

Our Rubber Mattings are manufactured in a variety of polymers designed to work in a wide range of applications and environments – Oil Resistant Nitrile, Chemical Resistant PVC and Vinyl, Natural Rubber and SBR for wear resistance.

Surface finishes are often simply down to customer preference the most common being Fine Ribbed, Button and Checker Plate. Other surface finishes include Pyramid, Finger Tip, Square Top, and honeycomb.

Although generally sold as commercial products, Rubber Mattings can be modified to provide greater wear resistance, chemical and oil resistance, ozone and weather resistance to suit such diverse environments as horse stables, transport ramps, machine shops, lifts, and transport systems.

Rubber Matting is manufactured as Rolls in standard widths from 914mm (3ft), 1000mm and 1220mm (4ft), and as special manufacture up to 1800mm wide. These rolls can be pre cut at the factory into pads and shorter lengths to meet you specific requirements.

View all our Rubber Matting Products