In 1960 George MacLellan & Co in Glasgow were advertising rubberised canvas things that looked just like lilos and marketed them under the name "Sea-Esta". (It seems that coming up with "dodgy brand names" is in our DNA)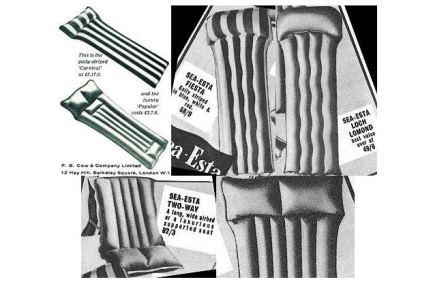 These were really expensive luxury items in 1960: you can multiply the value of money by 30 now . . . so 49/6 (49 shillings and sixpence - 2.9.6 would be near the value of 75 now; 3.7.6 would be nearly 100; and 82/3 or 4 and 3 shillings over 120)

Today MacLellan Rubber focuses on High Quality Rubber Sheeting and technically advanced Rubber Matting products for Electrical Insulation, Anti-fatigue and Anti-slip applications.

We constantly work to develop specific compounds to suit the increasingly demanding applications that modern business demand, and whilst enjoying some sunshine and sea is always high on every ones agenda, we recognise the smell of warm rubber is unlikely to enhance that experience.