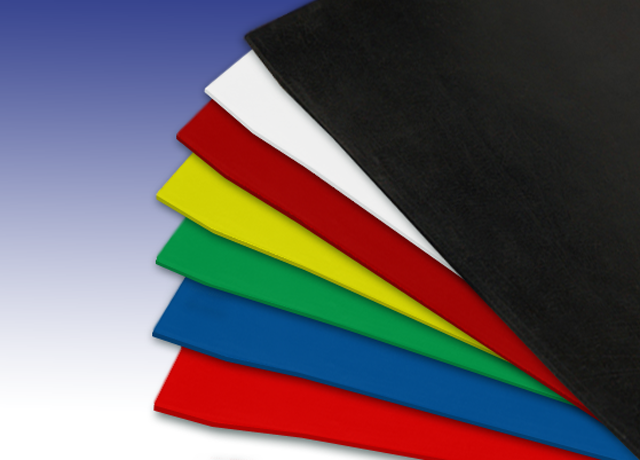 MacLellan Rubber supply in excess of 200 tonnes of Rubber Sheet material every month and the vast majority of this is Black. A limited amount of Rubber Sheeting we supply is White or Blue #FoodSafe #NitrosamineFree compound, Red Abrasive and Tan Shotblast.
When we received a request for an
EPDM rubber sheet
that could be produced in a range of colours to support a diverse manufacturing and assembly line, our interest was piqued as to how far our technical team could push our manufacturing boundaries.
Producing Rubber Sheet in Colours
The technicality of producing Rubber Sheet in colours is largely dictated by the polymer type and how much the compound formulation is acceptable of pigments; colour pigments are compounds in themselves and can often act negatively with other chemicals during the curing process and consequently detract from the desired characteristics of the formulation.
Requests to match Pantone references are quite common and, in most cases, completely unattainable. Like so many materials where heat is applied to produce the final product, controlling colours is limited to getting it to the right shade rather than tightly controlling it. Latex, however, is one of the few materials where the purity of the compound (NBR) and its accommodation of pigments is more obliging, and therefore the colour range is extensive.
Colour Testing of EPDM Rubber Sheeting
Challenged with providing seven clearly identifiable colours in the same grade of
EPDM
, our technical team undertook a programme of testing and development reviewing a multitude of formulations and their reaction with colouring compounds and chemicals.
Although laboratory development is proof of concept, we then had to demonstrate that this could be scaled up to full production and give the same quality results and technical characteristics in the cured
rubber sheeting
.
After a relatively short development and production trial programme, we were able to submit our proposal based on a European manufactured premium
EPDM
Rubber Sheet offering the following colours: Blue, Yellow, Red, Green, Brown, White and Black.
Whilst this project is still awaiting final approval from the customer, our proposal was extremely well received and the development programme identified other opportunities to delineate assembly line products.
To challenge MacLellan Rubber's Technical Team or learn more about our capability to meet your Rubber Sheeting requirements,
contact us
or call
01902 30 77 11
.