In applications involving wear and friction, using a high quality material is essential to avoid premature failure from impact and abrasion of the media.
Assessing Wear or Abrasion Resistance
Wear or abrasion resistance as a physical characteristic is assessed on the volume of material that is removed from the material using a standard test method as outlined in the standard
ISO
4649:2017. The results of the test are shown as quantity in mm3; critically the lower the figure the better the performance. Note that tests can be completed at a load of 5 newtons (N) or 10 newtons (N) and care should be taken when assessing results, as although the 10 N abrasion number may be higher than that of a 5 N test, they are not comparable.
MacLellan's wear resistance rubber sheeting materials range from an exceptional performance of 65mm3, used in fine particulates and powder environments in the manufacture of flexible sleeves, bellows and liner, through to the more typical 80 – 120mm3, used in mining and shot blasting environments for shot blast screening, impact pads and wear pads.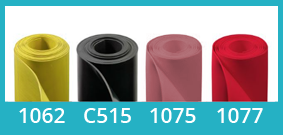 For some clients being able to differentiate between similar materials for specific applications can be challenging and for this reason, MacLellan's are able to manufacture Wear Protection sheeting in standard colours of Black, Red, Yellow and Pink; other colours are available subject to minimum batch quantities.
View our wear resistant rubber sheeting products:
To discuss your application in detail please contact our Sales team on 01902 30 77 11.