EVA412 Vibration Isolation Pad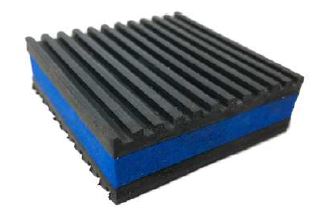 MacLellan Rubber Foam Rubber Mounting Pads are one of a
portfolio of solutions for noise and vibration reduction in
applications where bolting needs to be avoided.
The EVA Foam Rubber Pad is designed to eliminate
structure born vibration and noise, and has opposing ribbed
pads on both sides for isolation and positive grip.

Available in sheets 18" (457mm) square by 22mm thick,
which are easily cut to size on site.

With a working range of 4 to 20 psi, the maximum load per
standard sheet is 648 (295) – 6,480 (2,945) lbs (kg) .
Recommended for HVAC, motors, pumps, chillers, air
conditioning units, generators etc.

Elongation at Break
180 %
Elongation at Break
180 %
Highest Recommended Working Temperature
100 °C
Highest Recommended Working Temperature
100 °C
Lowest Recommended Working Temperature
-50 °C
Lowest Recommended Working Temperature
-50 °C
Shore Hardness (Shore A)
50 ° Shore
Shore Hardness (Shore A)
50 ° Shore