Neoprene Polymer Supply
MacLellan Rubber were recently chosen as the
Polymer
supplier for Vibration and Movement Dampening products in an offshore application.
MacLellan were chosen to lead due to its ability to provide Genuine
Polymer
s from Reputable and Traceable European sources, in addition to this we were able to offer guidance on best manufacturing process and qualified manufacturing partners.
Project Management
This support resulted in the customer asking MacLellan to manage the supply of the project which involved the
Polymer
supply with all relevant batch testing and certification and all technical, commercial and operational liaison between the chosen sub-contractors and the end user. This joined up approach resulted in the project being delivered ahead of time and on budget.
Simon Winfield commented "MacLellan managed this project and delivered ahead of schedule through detailed planning of the development and manufacturing process with the chosen manufacturers; reviewing and re-reviewing every step to make sure key milestones were achieved."
Rubber to Metal Bonding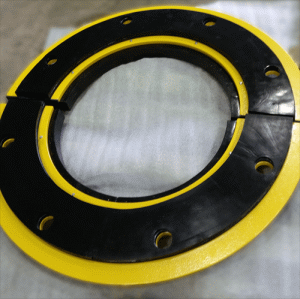 The project itself involved Rubber to Metal Bonding of pre-cast
BS2752
C40
Neoprene Rubber
pads, and vulcanising these to Rubber lining sheets which had previously been bonded to the client's large metal work. All work was undertaken to customer defined engineering tolerances. The final assemblies are being used to absorb vibration and accommodate the movement of support legs on offshore plant and equipment.
MacLellan are able to offer high quality fully traceable, European manufactured
Polymer
s in both
Compound
, Sheet and Roll form and, whilst we do not convert product directly, we are able to offer guidance on manufacturing processes and Partners and can provide Project Management services if required. For more information, contact the Team on 01902 307711