Thank you to everyone who attended this years GCA Golf event, staged at the picturesque Pine Forest Golf Club in Lincolnshire making it a great success.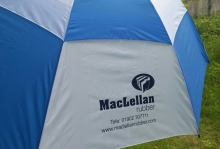 Congratulations to Steve Jacobs for winning the individual trophy! and to our own Simon Winfield for his modesty in receiving the bottle of champagne prize for the putting competition

The GCA have thanked all of the events sponsors, and our MacLellan branded brollies went down a storm.

On the whole great fun had by all who attended the event 7 we look forward to seeing you all at the upcoming Race Day in October.