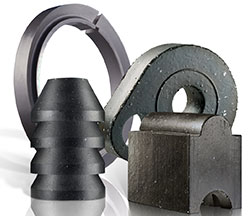 We specialise in bespoke rubber mouldings and the custom manufacture of rubber and thermoplastic products for a wide range of industries and industrial applications. Our Injection Moulding capabilities enable us to offer our customers a cost effective solution to their moulding requirements with high quality production of high volume finished parts.

Injection Moulding involves the injection of compound directly into the cavity of the mould and automatic ejection of vulcanised parts at the end of the pre-defined process time, the process cycle repeating without additional input from an operator. Injection Moulding tools are generally multiple cavity for high volume production although the process is utilised for low volume parts with a single cavity where quality of finish is paramount.

Injection moulds are considered expensive compared to other processing tools due to the additional engineering and higher quality of the steel to enable it to run constantly however the significantly reduced cycle time, higher quality of finished product and reduced material waste due to almost no flashing generally offset the cost for higher production volumes. Other options we offer are Compression Moulding and Transfer Moulding.