Body Armour, including stab vests, offers stab protection and must meet minimum performance requirements, as defined in the Body Armour Standard 2017 which was updated by the UK Home Office in 2017. MacLellan Rubber is an original contributor to the establishment of a defined standard for Body Armour testing and Stab Vest testing and has been a long term supplier of material for Critical Performance Analysis Tests with thousands of material units sold globally.
New material designations for Stab Vest Testing
Following an extensive review in 2017, the Government
Centre for Applied Science and Technology
(CAST) issued an updated standard, including the composition of the packs of material designed to represent the elasticity of the human torso. The test equipment consumables materials are now defined by the designations: AL52N, DK1735, LD24 and AL55 and assembled in the following order (see image above).
In stab vest testing, the composite pack of foams and rubber are retained within a containing box below the body armour panel and are designed to represent the dynamic response of the torso when the knife or spike arrangement is plunged into the assembly.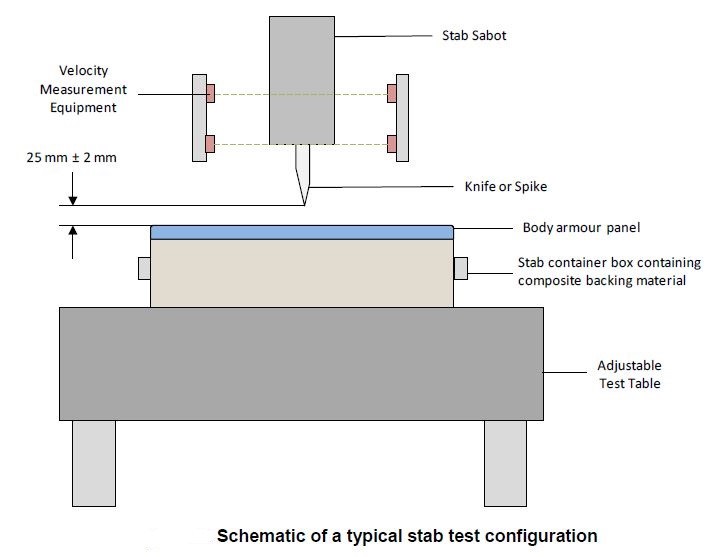 Complying with latest safety standards and legislation
MacLellan Rubber is a manufacturer of specialist materials for high technology applications using only high grade, fully traceable materials. We work with specialist equipment suppliers in this safety critical market sector, offering design and technical support and work with customers to ensure compliance with the latest standards and legislation.
Products Used:
Application:
Stab Vest Testing of uniformed armour
Purpose:
Replicate elasticity of human torso
Locations:
Global