MacLellan Rubber have offered a range
of antivibration and noise attenuation materials for many decades, focused
around its MacMount range of pads for Transformer Isolation and Construction
movement and vibration isolation.
Following regular requests from
customers for isolation pads to be used for machinery and equipment that
doesn't require bolting through, and allows repositioning of the equipment as necessary,
we have developed a range of products to meet a wide range of applications.
Overview
An established manufacturer were
embarking on a modernisation of their factory with investment in a range of
state-of-the-art equipment, and asked for support from MacLellan's in
recommending appropriate isolation pads that would:
·
Ensure the machines were isolated
from vibration transmitted through the floor from existing older equipment, and
localised vibrations from heavy equipment operating in local industrial units,
that may affect their operation.
·
Help reduce any vibration or airborne
noise transmission from the new machines, protecting workers from any long-term
impacts on health.
·
Allow the machinery to be
repositioned multiple times as other new equipment arrived and older equipment
was removed or decommissioned, and the layout of the factory was reconfigured.
·
Avoid the necessity of digging and
creating a lined isolation pit for the machines to stand on.
Application:
The initial equipment being installed
included a Mazak 510c Vertical Machining Centre and a Hurco TM8i Slant Bed Lathe.
Whilst these two machines are robust
and well designed, there was a potential for external vibrations from heavy
impact equipment elsewhere in the factory to affect the accuracy of the cutting
heads. They generate low frequency noise
in the range of 60 – 120 hertz or approx 40 dB. With respective footprints of
3m x 3.2m and 4.5m x 2.7m, and only limited footing points for the overall
loads of 7,100kg and 4,050kg the application was well within our scope.

Successful Installation
In both cases we recommended the use
of our synthetic Nitrile material as this would offer the best resistance to
any potential spill or leakage of machine or lubrication oils.
For the Mazak machining centre, we
recommended our MacVibe Waffle Pads. The operating process meant that it had
potential to migrate in one direction only, and the current location meant that
it was less susceptible to vibration impact from other equipment in the
factory.
When loaded the waffle pads create a
vacuum suction effect on the top and bottom surfaces, holding the machine in
place, absorbing vibration coming down through the feet and isolation the
machine from vibration coming from external sources.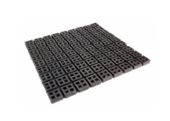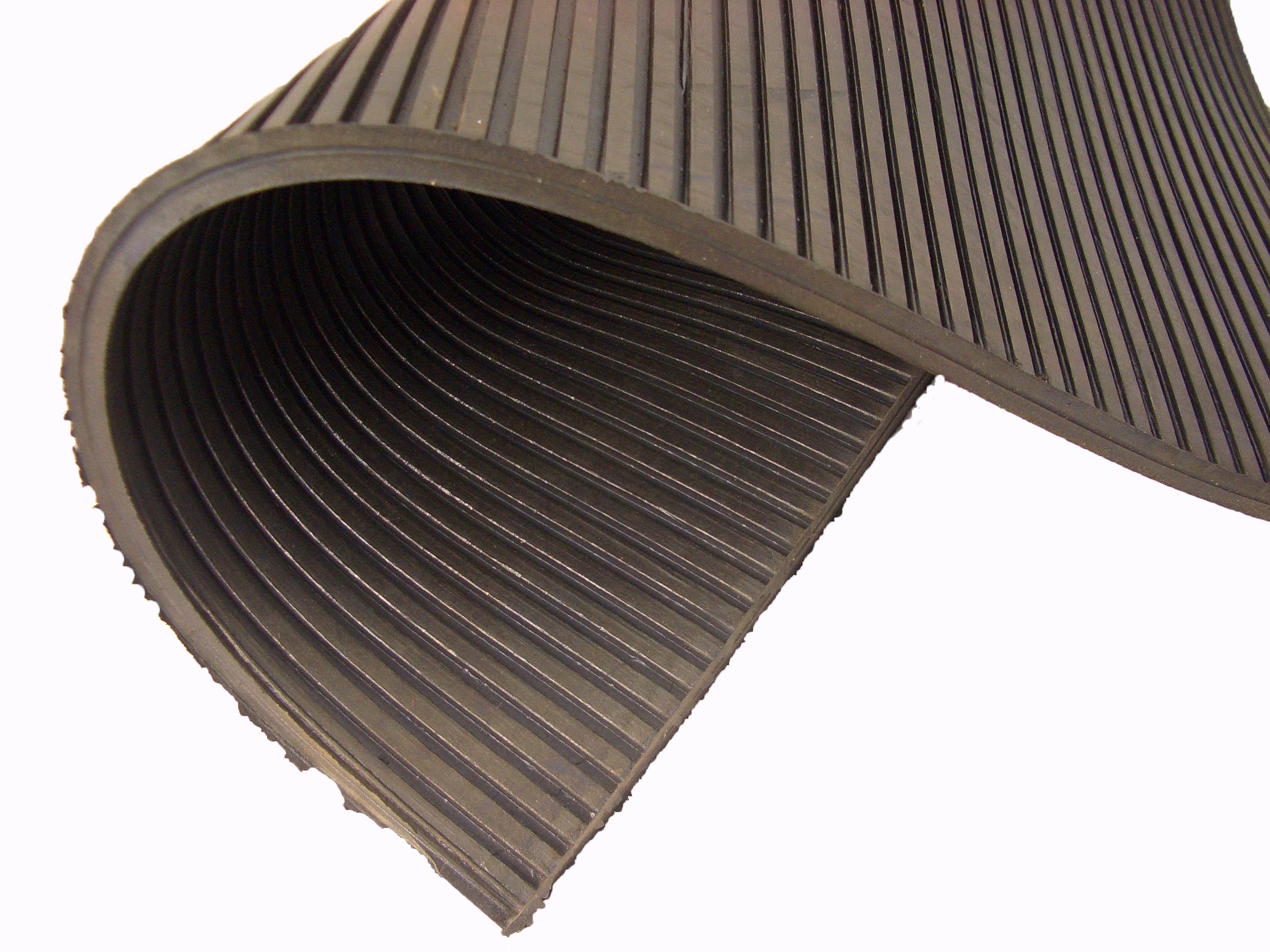 Image: Waffle Pad Image:
Ribbed Mat
For the Hurco TM8i slant bed lathe,
we recommended our MacVibe Ribbed Mat. The machine has multi directional forces
and is currently located in the centre of the factory surrounded by other
machinery. Those forces had the
potential to vibrate the machine in multiple directions. MacVibe Ribbed mats have a ribbed pattern on
both sides at 90-degree angles that creates a positive grip and stops movement.
Additionally, the mat absorbs low level vibrations coming from the machine
itself and isolates it from vibrations originating from surrounding equipment.
The customer have also now installed
MacVibe Rubber / Cork isolation pads under existing light weight processing and
mixing equipment to further reduce the transmission of ground vibrations and
air borne noise.

Image: Rubber Cork Pads

Overall noise levels within the production
area have reduced from 96 dB to 80 dB during peak production times.
Conclusion:
Feedback from the customer has been
positive with no movement of the machines despite operating on multiple shifts.
Production personnel across the site have reported lower overall noise levels
despite the increase in the number of machines working at any one time.
The customer have additional new
equipment installations planned and intend to use MacVibe antivibration pads on
all of these.
Key
Features for this application were:
·
Lubrication Oil resistant
·
Oil resistant
·
Wear resistance
·
Noise attenuation
·
Ease of installation and relocation
Products Used:
MacVibe Waffle Pads, Ribbed Mats, Cork/ Rubber Pads
Application:
Machine Vibration Isolation and noise attenuation.
Purpose:
Vibration Isolation for machinery and equipment. Noise reduction in the local area.
Locations:
Global