Sealing Leaking Nitrogen Pipe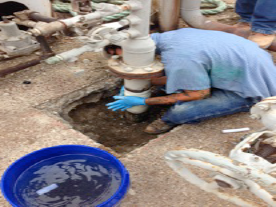 An oil refinery with a leaking pipe is a potential disaster scenario whether from the risk of explosion or from the need to shut down the plant to facilitate the replacement.
Acting decisively to rectify the problem with a long term solution was paramount to keep the plant running and minimise environmental damage. The solution proposed and accepted was installation of Thistlebond UPS 19605 PR Pipe Repair Bandages, 100mm wide x 3.6mtr long, delivered and installed the same day.
Thistlebond Emergency Pipe Repair Bandages can be installed within minutes and are suitable for 150 psi in single wraps, and higher pressures with the use of multiple layers. In this instance the pipe was isolated; concrete area around the pipe was cleared to allow ease of application along a wider area of pipeline; the surface was cleaned and prepared using an angle grinder to create a good bonding surface for the Thistlebond PR Pipe Repair Bandage; and two bandages were used to fully seal the leaking pipe.
With
cure time
of less than 30 minutes the pipeline was reactivated and tested within the hour and the plant returned to full operation with minimal disruption to the wider operational activity.
Products Used
Thistlebond UPS 19605 PR Emergency Pipe Repair Bandage
Application
Seal a leaking Nitrogen Pipe at 110 psi
Purpose
Seal the Pipe with minimal disruption to the plant operations
Locations
UK